Levi Johnston to name newest baby girl "Beretta," after handgun
(Read article summary)
Levi Johnston, the former fiance of Bristol Palin, has announced he and his girlfriend plan to name his newest baby girl "Beretta," after the Italian handgun. Johnston, an avid hunter, already has his daughter's name tattooed on his bicep.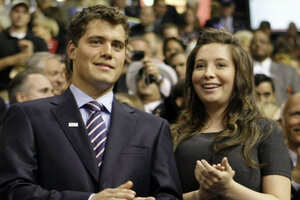 Charles Rex Arbogast/AP
Levi Johnston, the father of Sarah Palin's granddaughter, is expecting a new child. And the name he and his girlfriend have picked out for the child is just as unconventional: Breeze Beretta, after the Italian handgun.
Related: Are you a Helicopter Parent? Take our quiz to find out!
Mr. Johnston, 21, and his five-and-a-half months pregnant girlfriend Sunny Oglesby, 20, went on celebrity news show "Inside Edition" to reveal the name of their expected daughter. In case viewers missed the connection, Johnston confirmed on air that the child's name would be Beretta, "like the gun."
The interview is set to air tonight.
Johnston, an avid hunter who lives in Wasilla, Alaska with Ms. Oglesby, showed "Inside Edition" hosts his new daughter-inspired ink as well, the word "Breeze" tattooed on his right bicep in anticipation of the birth.
Johnston is no stranger to interesting names. His first child with ex-fiancé Bristol Palin, is named Tripp.
---