Save neighborhoods: See the living city on a Jane Jacobs Walk
(Read article summary)
Get out of the house and take a "Jane Jacobs Walk" in honor of the legendary urban planner who promoted experiencing the living city and built environment on foot in order to save neighborhoods.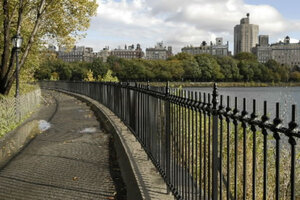 Mary Knox Merrill/The Christian Science Monitor
If you have enjoyed a walk around your neighborhood, and certainly if you have participated in civic discussions about the way your neighborhood should grow and be planned, then there is a good chance that you, or your process, were influenced by Jane Jacobs.
Jane Jacobs lived and worked in New York City, and then Toronto. In her work, writing and life, she championed the idea of community building from the ground-up – often literally. Her ideas, which are collected in her seminal "The Death and Life of Great American Cities," among other books, influenced methods that many architects, engineers, and urban planners employ today when they plan and build to create a greater sense of community.
Sidewalks for walking, parks and other spaces for gathering, promotion of local and local-serving businesses, and scales that encourage people to populate and enjoy their neighborhoods are some of the ideas Jacobs prescribed, even though she had no formal architectural or planning education. (She claimed that her education arose from reporting on and experiencing cities.)
She also rallied and helped organize her own neighbors in New York's Greenwich Village, SoHo and Little Italy when those wonderful and unique neighborhoods were threatened with intense development, including the proposed Lower Manhattan Expressway, in the early 1960s. Jane Jacobs died in 2006 at the age of 89.
---