Mother's Day 2012. What moms really want. Really?
(Read article summary)
Mother's Day 2012: The Internet will tell you "what moms really want" – but don't believe it. CorningWare or a nice breast pump, or even a diamond are not it.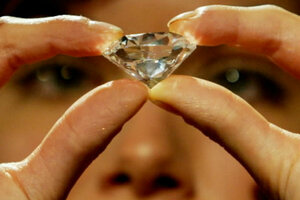 Reuters/File
It's the countdown to Mother's Day 2012. And as a relatively new mom (this is only my second Mother's Day, and during the first one I was too sleep deprived to notice anything) I'm wondering what one actually does on this holiday. From Position Mommy.
"Well what do you want to do?" asked my sweet husband.
I looked at him blankly and shrugged. Sleep? Actually read the newspaper in dead tree form? Go outside and hang out with my fam?
Are you a Helicopter Parent? Take our quiz!
I didn't feel particularly inspired.
But luckily, even if I don't know what I want for Mother's Day, there have been plenty of email advertisements flooding my inbox this week with some suggestions.
Amazon.com might be the winner. Its e-mail came early in the morning – one of the first things I saw pre-latte – and its title caught my eye.
"Stephanie: What Moms Really Want," it beckoned.
Excellent.
So I clicked.
And the answer...
I swear I am not making this up, but the answer is apparently a vacuum cleaner. Really. That's the main thing advertised on the site; the top item that Moms Really Want this Mother's Day.
---