Take your children to the park this weekend, and leave them there
(Read article summary)
Take your children to the park this weekend, and leave them there. That's the advice of our free-range parenting expert, who explains how simply taking your kids to the park can strengthen communities and instill independence.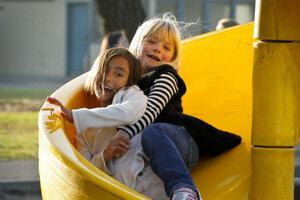 Tony Avelar / The Christian Science Monitor
Hi Folks! As our annual "Take Our Children to the Park…And Leave Them There Day" draws nigh (does "nigh" ever get used without the verb draw?), it's good to remember why it is so great for kids to get out and play, on their own, without a coach, program or parents to organize (or limit!) them.
The idea of the holiday is simple: On May 19 (Saturday), we take our kids, age 7 or 8 and up, to the local park at 10 a.m. That way, they meet up with other kids from the neighborhood. We wave goodbye and the kids are on their own to come up with something to do. Boredom works in their favor – eventually they start playing because not playing is so painfully dull.
By the time they're through – it could be half an hour or half a day later – chances are they'll want to do it again. And so Sunday becomes "Our kids are going to the park on their own" day, as do most days thereafter!
If you've got younger kids – great. Go to the park and witness what your kids will be able to do in only a few years. Meantime, you're there on the bench, creating the kind of community that reassures the parents waving their older kids goodbye.
Spread the word!
---