Working mom, stay-at-home mom: A debate that belittles motherhood
(Read article summary)
Our American weirdness about the working mom vs. stay-at-home mom debate, comes as much from our strange relationship with work as it does with our ambiguous, nostalgic-but-perhaps-belittling approach to motherhood.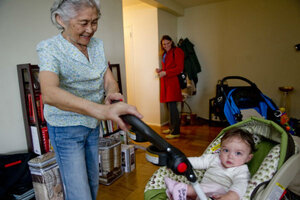 Ann Hermes/Staff
Not long after I had Baby M, I was chatting on the phone with an older female relative. (Exact relationship to remain hidden to protect the questionably innocent.)
"So," she said, words dripping with that I'm-being-nice-really-I-am tone, "don't you think it's interesting that both you and your roommate went to Yale, and now you are both stay-at-home moms?"
Pause.
Are you a Helicopter Parent? Take our quiz!
I looked down at my sleeping little baby and thought of all the swear words she really shouldn't hear yet.
"Um, yeah," I managed. "Interesting. Gotta go now."
Because "interesting" was decidedly not what I heard. Rather, from this vanguard of 1970s women-in-the-workplace feminism, I heard "pathetic." Maybe "disappointing." Or perhaps "waste of all those tuition dollars." And honestly, it stung. I knew my time with this little girl felt like the most important thing in the world, but....
As Husna Haq writes in this week's print Monitor magazine [to be posted online Friday] , Americans are far from beyond the "touchy, judgment-passing hostilities of the so-called mommy war." And we're not just judgmental. We're confused.
While Ms. Haq reported that some 70.6 percent of moms are in the workforce, a related Monitor/TIPP poll found that 46 percent of Americans believe that mother's should be home with children unless they are the family's sole breadwinner, and 62 percent of people believe that one parent should be home with the kids. Meanwhile, 68 percent of respondents agreed with the statement that "It's OK for moms to work outside the home, period."
---