Hillary Clinton "au naturale" is no Kate Middleton. Is that OK?
(Read article summary)
Hillary Clinton has gone "au naturale," wags Drudge. And she doesn't deny it. But her eyeglasses and lack of makeup bear a lot less on her job as a superpower broker than, say, the glamor of Kate Middleton bears on her job as ... what?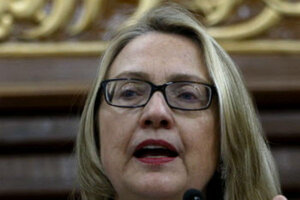 AP
This just in from the hard hitting journalism department: Hillary Clinton, US Secretary of State – you know, the person fourth in line to the presidency, responsible for the foreign policy of our country, who over the past month has visited China, Bangladesh, India, Columbia, Brazil, Belgium, and France – sometimes doesn't wear makeup!
The horror.
Are you a Helicopter Parent? Take our quiz!
Forget "smart power," little girls. This is the real lesson about women in the public sphere.
Sigh.
Another big sigh.
C'mon people.
The latest How-Does-Hilary-Look flap began heating up this week with a photo posted by the Drudge Report Monday showing the Secretary of State wearing glasses and just a little bit of lipstick, with the headline "Hillary au Naturale." (sic) This, on top of an aide's worries – quoted in a women's magazine – about Ms. Clinton's penchant for pulling her hair back in a ponytail and securing it with a scrunchy, got the media's tongues a-wagging.
Not that there's ever a makeup-free day over here, mind you. Oh no. And hair in a ponytail? Never. We're all Kate Middleton on this side of the computer. Cross my heart.
And we're even fancy when we travel. I call it vagabond chic.
---