Time Magazine style breastfeeding a global goal
(Read article summary)
Time Magazine has upped the debate about breastfeeding – and in particular, the sort of extended breastfeeding that health organizations say should be a global goal. Save The Children and others say mothers should breastfeed their children for at least two years.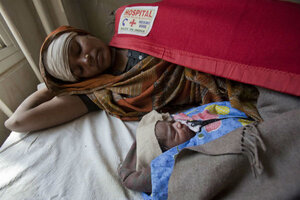 Vivek Prakash/Reuters
Days after Time Magazine came out with its now famous (infamous?) cover of mom Jamie Lynne Grumet breastfeeding her three-year-old son, the cyber tongues are still a-wagging.
Omg, look how old he is! seems to be the main reaction from Internet land. Breastfeeding is fine and dandy, many of the Tweets, posts and comments say. But breastfeeding a toddler? Not so much.
Related: Are you a Helicopter Parent? Take our quiz to find out!
Now, we have our own opinions about whether Time's cover is helpful for what should be a national conversation about breastfeeding. (As we noted last week, the US ranks last among 36 industrialized nations in support of breastfeeding, with only 35 percent of moms exclusively nursing when their children are three months old.)
But since there's a debate raging now about whether it's appropriate to nurse an older toddler, we thought we'd just throw out some international context on this particular angle of the conversation.
In the southern African country of Malawi – one of Save The Children's top ranked developing countries for moms – 77 percent of children are still breastfed at age two. That number is even higher in Bangladesh, where 90 percent of children still nurse, and in Nepal, where the number is 93 percent. Moms in India nurse 77 percent of their two-year-olds, and mothers in Rwanda are still breastfeeding 84 percent of theirs.
---