Top baby names of 2011: Sophia, Jacob and... Briella?
(Read article summary)
The top baby names of 2011 are out, thanks to the US Social Security Administration. 'Sophia' has knocked 'Isabella' out of first place for girls and 'Jacob' leads the baby names list for boys. 'Briella', as in "Jerseylicious" star Briella Calafiore, made the biggest jump in popularity.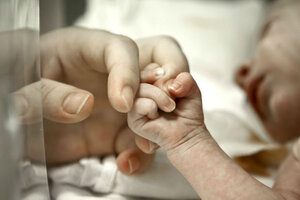 Vadim Ghirda/AP
The results are in, and the new reigning champion for America's most popular baby name is.... Sophia.
And Jacob (again).
Take that Isabella.
Yes, parents-to-be desperately seeking guidance can breathe a sigh of relief: today the US Social Security Administration released its much awaited 2011 list of most popular baby names.
Isabella, which was the most popular girls name in 2009 and 2010, has dropped back down to number two. Emma, Olivia, and Ava make up the rest of the top five, closely tailed by Emily, Abigail, Madison, Mia, and Chloe.
On the boys' side, Jacob, Mason, William, Jayden and Noah lead the pack, with Michael, Ethan, Alexander, Aiden and Daniel not far behind.
Most of these names have been lingering toward the top of the list for a while now. Jacob was No. 1 last year too. Mason, however, is a an upstart. He hadn't even cracked the top 25 until 2010, when he sat at number 12.
The annual Social Security names list can also be seen as a kind of quiz on how well you know American pop culture.
In its press release about the most popular baby names (the best government press release I've seen in ages) the Social Security Administration acknowledges that some attribute Mason's rapid rise to reality TV star Kourtney Kardashian's son of the same name. But it also has some other explanations.
"We note, moreover, that Mason has been a regular top-five name in Wisconsin for many years, undoubtedly a tribute to strong-legged Green Bay Packer kicker Mason Crosby," it says.
---