Most popular baby names ... for now. Beware, Sophia.
(Read article summary)
The most popular baby names in the US are Sophia (for girls) and Jacob (for boys), according to the Social Security Administration's new list of top 2011 baby names. But if history is any guide, it won't take long before Sophia goes the way of Barbara (No. 764).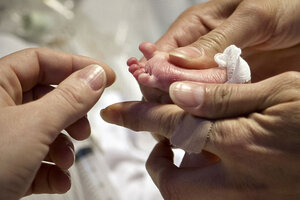 Vadim Ghirda/AP
We wrote Monday about how the Social Security Administration had released its most popular baby names of 2011, with Sophia leading the pack for the girls and Jacob holding steady as the country's No. 1 boy name.
Today, we take a peek at what's happened to some of the other top names from the past few decades. And it turns out that Sophia, Isabella, and Emma should be afraid. Very afraid.
As we mentioned before, the administration keeps a database of American baby names going back to 1880. A user can browse the names by popularity or year, which can turn into a mesmerizing look at American groupthink – or at least pop culture creep.
Sociologists, psychologists and those specializing in onomastics (the study of names) have theorized why it is that parents – even those scouring baby name books for the perfect, unique moniker – tend to end up as part of a country-wide trend.
Names, the prominent theories say, are typically driven by fashion. And while many parents today might be trying to pick a "unique" name (a new trend in and of itself), they usually don't want something totally outlandish. So they'll try to make a little twist on an existing popular name; for instance, turning "Emily" (No. 1 from 1996 to 2007) into "Emma."
---