Jay-Z music break for baby Blue reflects new daddy nurturer trend
(Read article summary)
Jay-Z takes a music break to "hang out" with his new baby Blue Ivy Carter. He reflects a new trend as daddy nurturer – most white collar men polled ina a new study want to spend more time at home with their new babies.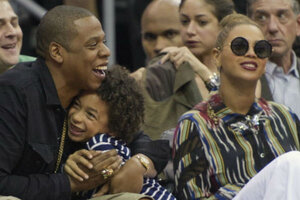 Reuters
We encounter our fair share of celebrity mom stories here at Modern Parenthood, so it was a nice shift this week when we heard about a celeb dad's baby gushings.
Rapper Jay-Z, proud papa of four-month-old Blue Ivy Carter, told MTV news Monday that he will be taking a break from the recording studio to spend time with his baby daughter.
"I thought I would be more inspired with all the new feelings and everything that I'd have to write about, but it really happened the other way," he said. "I just really want to hang out with her. I just want to enjoy those moments for a bit and I'm sure that feeling for music will come back soon."
Hov seems to be onto a daddy trend here:
According to a recent report from Boston College's center for Work and Family, a growing number of fathers see their role not just as breadwinner but as nurturer.
In a survey of nearly 1,000 dads with white collar jobs at Fortune 500 companies, with nearly half earning more than $100,000 a year, Boston College researchers found that a significant majority picked "both caring for my child and earning money to meet his/her financial needs" as the best way to describe how they viewed their responsibility to their children.
---