Encouraging independence means letting teens have a few secrets
(Read article summary)
One way to encourage independent teens: let go of the need to know everything that is going on in their lives. Our experts say that it is better for parents not to know about some of their teen's secrets.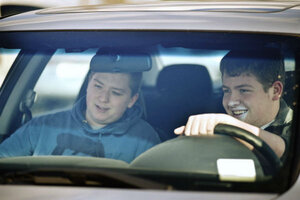 Daniel J. Murphy/Northwest Herald/AP
The truth is there are some things that as a parent of a teen, actually as a parent in general, you are better off not knowing. Stop a moment and think back to your own teen years. Think back to a specific time when you did something so risky, so dangerous, so stupid, or any combination of the three, that it is a miracle you are still around. Can you think back to a time when luck had to have been on your side because if it hadn't been, you probably wouldn't be reminiscing about this? Now ask yourself, if by some chance your parents did not find out about this, did you tell them anyway? We are willing to bet that a large majority of you did not tell your parents.
While there were many reasons for not enlightening your parents, we would guarantee that besides wanting to avoid a consequence you also had their best interests in mind. We mean, why inform them after the fact when you were okay? Did they really need the anxiety, disappointment and even despair that could have easily ensued? So, where are we going with this? It is really quite simple: there are some things about your teens that you are probably better off not knowing.
There is much truth to the saying "What doesn't kill you makes you stronger." As your teens work to establish their identities and assert their independence they are likely to make mistakes and missteps. Many of these you are probably better off not knowing about. You have raised them well, instilled in them the virtues and values that you felt were not only needed but necessary. It is during adolescence that parents need to allow their teens to try out their wings. If communication is strong and the bonds of trust and respect are mutual and firm, then you have done your job. If they need your assistance, advice or the wisdom of your experience they are likely to fly back to you.
---