7 tips to help reignite the Twyla Tharp creativity in any parent
(Read article summary)
7 tips to reignite the Twyla Tharp-style creativity in any parent. From note-taking to magazine-reading to Ms. Tharp's own trademark magpie inspiration box, this list will help parents find that special inspirational spark.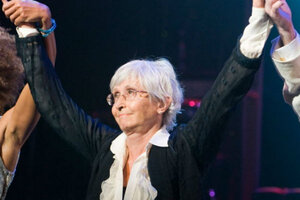 Charles Sykes/AP
This Wednesday: 7 tips I use to spark my creativity.
I've read a lot of advice about how to spark creativity. Everyone's creativity takes a different form, however, so the advice that works varies from person to person.
For example, I put a lot of pressure on myself to be efficient and productive. One of my struggles, therefore, is to allow myself to spend time on activities that don't pay off in some direct way. Creativity often involves play, digression, exploration, experimentation, and failed attempts; it doesn't always look productive.
As ludicrous as it may sound, I have to force myself to wander, and schedule time for goofing off.
Here are some creativity-boosting strategies that work for me:
1. Take notes. I have a compulsion to take notes as I read. I write down quotations and bits of information that catch my interest. In fact, all my book projects have really been ways to justify taking the notes that I most wanted to take.
I used to fight the urge to take notes that weren't related to a specific project, but now I let myself go. I make strange lists, for no reason. I take notes without a purpose. I realize that sometimes, even many years later, I do find a purpose for those notes. All this note-taking is time-consuming, but in the end, highly satisfying. Along the same lines, I…
---