Graduation gifts: The moving boxes of elementary school days
(Read article summary)
Graduation gifts for elementary school? The most meaningful mementos come in the "moving boxes" full of experience that we take from one school year to the next – the cumulative fun, growth, fascination of art projects, friends, social studies and language arts.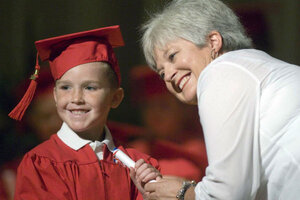 AP
We are packing. Each of us has a box with our names on it. Perhaps it is the box of 2nd, 4th, 6th, or 8th grade ... or parenting a child therein.
Into these boxes we place the carefully wrapped, delicate (or sturdy) sealed packages of language arts and science and social studies. Don't forget the box of P.E. and art and band and music and sports! The box of recess, lunch, and homework club too. The box of friendships. The box of meetings and parent-teacher conferences; conviviality, joy, consternation, frustration, and even heartache – but mostly triumph and fulfillment.
In June, the schoolhouse begins to fill with these real and imagined boxes that come in all sizes. They are the vessels for all we have experienced, learned, made, sung, acted, danced, run and cherished between September and June, and they begin to pile up in anticipation of the big move to a new year.
It's like moving a house we've grown accustomed to. There are book boxes and china boxes and wardrobes – small boxes for a few heavy items, and bubble-wrap and tissue paper for the breakables; wardrobes for all those costumes that are put to use every day, plus the extra-special costume day we call Halloween. Sometimes they are disguises, sometimes just character or scene changes. Everything we need for the next place is being prepared for loading. The truck is here, idling.
---