Bullying and suicide: Misinformation and hyperbole link them
(Read article summary)
A teen's fake Facebook page about a child who committed suicide as a victim of bullying raises the need for digital literacy to separate fact from fiction. Facebook isn't a context – life is the context for Facebook.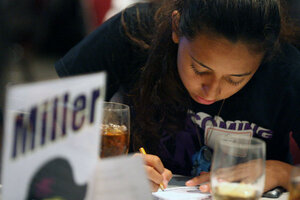 AP
As a fellow parent put it, "It blows me away that she got suspended for telling it like it is (from her perspective)."
He was talking about the story of high school freshman Jessica Barba, who – for a school assignment – created a video and Facebook profile of a fictional 12-year-old who, the story goes, committed suicide because she was bullied. The real-life drama continued when some "concerned parent" saw the fake profile but apparently not the disclaimers in it that this was fiction and called her local police, who called the school, which subsequently suspended Jessica for five days, later unsuspending her during a hearing held while Jessica and her parents appeared on NBC's Today Show.
(Adding absurdity to the pile of mistakes on just about everybody's part, including news reporters, author Judith Warner wrote in Time.com that the "outrage" in all this was how her teachers would "allow this girl, like so very many of her peers, to reach nearly the end of 10th grade without a solid grasp of written English." Really, Ms. Warner, this was your main takeaway?)
By all accounts, Jessica was honestly "telling it like it is" – in a school assignment – from her perspective. Of course she shouldn't be punished for that, and that part of the story had a happy ending. She was allowed back to school and the suspension was erased from her school record.
---