Post graduation: A mom's defense of her boomerang kid in Beijing
(Read article summary)
The post graduation boomerang kid – part of the generation of adult children who move back home with parents – is a welcome addition to and American family's new life in Beijing.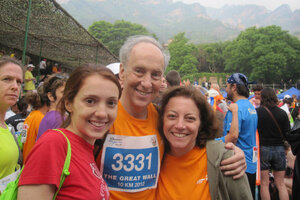 Courtesy of Debra Bruno
There's been a lot of griping in the news these days about the slow-to-grow-up generation of 20-somethings who return home after being out in the world and sit, accumulating crumbs, in their parents' living rooms.
In fact, the "boomerang generation" is moving back home at the highest rate since the 1950s – currently 21.6 percent of adults ages 25 to 34 according to a recent Pew Research report. Three-in-ten parents reported having a child who has moved home for economic reasons.
But I want to celebrate another kind of boomerang kid. This is one who is actually more of a hitchhiking kid than a returning child, since the home she'd normally return to is rented out to tenants, and her parents – my husband and I – have decamped to Beijing where we are having an adventure.
Joanna, 24, decided that it was all the more reason for her to have an adventure as well, so she quit her job (gulp), backpacked around Thailand and Cambodia with a friend (another gulp), volunteered at a home for street kids in Chang Mai, Thailand (gulp, gulp, gulp), and landed in Beijing, where we were surprised, mostly delighted, and maybe even a little taken aback to realize that we'd have a roommate.
Luckily, we had rented a three-bedroom apartment, so Joanna actually has her own little nest in one corner of the place, and we can use a third bedroom for a study plus guestroom.
---