Facebook lowering age restriction? Will your toddler friend you?
(Read article summary)
Facebook is reportedly exploring lower age restrictions to allow the under-13 set to get in on the social network. Reality is, many under age are already using it – but do they really need it?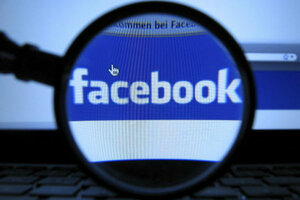 AP
Ah, Facebook. There are always fun news tidbits for parents swirling around the massive social media site. Cyber bullying, drunken party pictures, prom dress "dibs" ... you name it.
Now, we hear, parents of younger kids can start to get worried, too. (Or excited, if you fall in the "social networking is good for children" camp. Which we respect, also.)
The Wall Street Journal reported today that Facebook may do away with its (poorly enforced) age restrictions, allowing users to be less than 13 years old.
RELATED: Are you Helicopter Parent? Take our quiz!
With parental consent, of course.
According to sources at the social networking site, the Journal reported, Facebook is exploring technology that would connect younger children's profiles to their parents' accounts, allowing mom and dad to control Junior's applications and to approve (or reject) his "friends."
It would also let Junior buy games and other services and link those charges back to his parent's account.
Awesome.
Clearly the social good in mind there.
Anyhow, a lot of people who study social media say this expanded access is a smart move. A 2011 Consumer Reports study found that 7.5 million people younger than 13 already use Facebook, and often with parental knowledge. It would be far easier to apply proper privacy settings if Facebook knew its users' true ages.
---