Father's Day gifts in a divorce: Who buys? Who makes the cards?
(Read article summary)
Father's Day gifts in a divorce fall to mom. Then one day, the teens say, "We got it, Mom."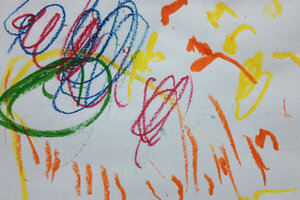 It's Father's Day No. 3 since my marriage ended. Thing is, the hoops I jumped through to get my kids to properly acknowledge their dad while I was married stayed the same after marriage. I still cajoled them to make a card and orchestrated the creation of an endless parade of paper weights, pencil holders and hand-decorated coffee mugs.
This year my kids are both teenagers, 13 and 15, and last week as we walked through the mall we passed a store window with a kitchen gadget in it. My son said it was something his dad might like.
RELATED: Are you a Helicopter Parent? Take our quiz!
I said, "Should we get it for him for Father's Day?"
Both kids let out a long whining "Noooo."
My son said it was Father's Day, which meant the children – e.g. he and his sister – would figure out what to give their dad. No moms needed.
Really? I thought. No car, no money, and without me, I thought self-importantly, no direction.
Last year I had them make little "ode-to-daddy" themed collages on canvas. Original works of art you could hang! Try and top that, I thought. And what would their father think, if they forgot to make a card? That's when I realized Father's Day wasn't about my kids' father anymore, it was about me.
In fact, it raised a whole lot of issues I would never have connected to Father's Day – like my own parenting insecurities, old resentments (how come he never has the kids make me Mother's Day cards? Or buy me gifts??) and, probably hardest of all for me, the fact that I have a lot less control over my children than I once did.
---