Miley Cyrus and Liam Hemsworth: Too young to get engaged?
(Read article summary)
Miley Cyrus, 19, and Liam Hemsworth, 22, announced their engagement today, raising questions about Hollywood's romanticized depiction of (too?) young marriage and its impressions on the average teenager.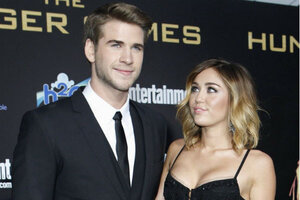 Mario Anzuoni/Reuters
A 3.5-carat diamond ring and an Australian fiancé sound like a fairytale marriage, but teen pop star Miley Cyrus's engagement raises questions about the idealized dream she's modeling for the average teenager. In other words: Can teen marriages last?
Ms. Cyrus, 19, best known for her role as Disney channel's "Hannah Montana," recently got engaged to Liam Hemsworth, who she has dated since she was 16 and he was 19. Hemsworth, 22, is one of the three young stars of "The Hunger Games."
People Magazine broke the news of the engagement Wednesday morning, which the Associated Press later confirmed. Cyrus told People, "I'm so happy to be engaged and look forward to a life of happiness with Liam."
However, marriage statistics show that a lifetime of happiness hasn't worked out as well for other teens who marry.
---