Disney bans junk food, Mickey Mouse brands health. Hmmm...
(Read article summary)
Disney's new ban on junk-food advertising during children's programming has been hailed as an important public health step. But what about the company's new initiative to brand "health food" with a Mickey Mouse label?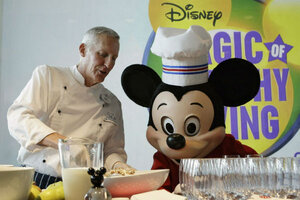 Gary Cameron/Reuters
So, I've been thinking about one of our news items from earlier this week, and just can't shake the feeling that the glass slipper doesn't quite fit.
On Tuesday, First Lady Michelle Obama and Walt Disney Co. Chairman and CEO Robert Iger announced that as of 2015 Disney will ban junk-food advertising on its children's television and radio programs.
Once the new regulations are in effect, food and beverage products will have to meet nutritional guidelines for serving size, calories, and fat and sugar content. Which means no more cartoon characters peddling sugary cereal or mass-processed cookies in the middle of Saturday morning kids programming.
This is, clearly, an important step. Not just because Disney is getting rid of junk-food marketing, but because of the implicit acknowledgement within its move that that the way companies advertise to children does impact their health.
(Mrs. Obama made reference to this herself at the press conference, saying that "for years, people told us that no matter what we did to get our kids to eat well and exercise, we would never solve our childhood obesity crisis until companies changed the way that they sell food to our children.")
But there's another big part of Disney's new program that is getting a lot less attention – and to me feels a wee bit disturbing.
On Tuesday, Disney introduced what it is calling the "Mickey Check," which it described as a Mickey Mouse icon "tool" that "calls out nutritious food and menu items sold in stores, online and at restaurant food venues at its U.S. Parks and Resorts." It may be coming to a store near you, soon, too, appearing on what Disney described as "licensed food products."
That's right. Disney is working to brand health. And apples.
---