Disney Princess paint: New way for girls to be fashion victims
(Read article summary)
Disney Princess paint: Lifestyle branding – from furniture to bedding to clothes – designed to envelope little girls in the cartoon dream is one new way to create fashion victims.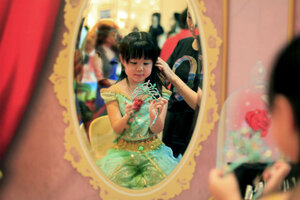 Wong Maye-E/AP
Did you know that Behr produces a line of Disney Princess interior paints?
In fact, Behr has a whole Disney Princess-Disney Color catalog with color names such as Fairest of Them All, Tink Pink, Glamorous Glow, One Enchanted Evening, and Bibbidi Bobbidi Blue.
The catalog describes the Disney Princess bathroom: "Relax in rooms as pretty as a princess. Surround yourself in a setting as cheerful as her smile."
And, of course, the Disney Princess bedroom: "In Sleeping Beauty's room, everything is enchanted. What better place to dream?"
Sleeping Beauty's room, pictured in the catalog, features Disney Princess paints, pieces from the Disney Princess Furniture Collection, Disney Princess bedding, and many other Disney Princess products.
While there seems to be a Disney Princess version of nearly everything, the idea of Disney Princess interior paints may come as a surprise. What's going on here?
Brands, Megabrands, and Lifestyle Brands: How Disney Princess Works
My students and I recently screened the Media Education Foundation documentary "No Logo," based on Naomi Klein's book of the same name. In the video, Ms. Klein explains why consumers and critics wind up protesting certain brands.
---