Kids' online safety: the key is trust and open dialogue, not fear
(Read article summary)
Kids' safety online is most impacted by open communication and trust with their parents. However, parents are often fearful and confused because of the mixed messages they receive from the media.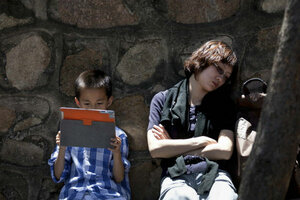 Andy Wong/AP
Thankfully, the youth part of "Talking to Youth and Parents about Life Online" had a whole lot of good news in it because my heart sank when I read this first paragraph on parents' views in this recent study from Canada's premier digital and media literacy organization:
"The parents we spoke with were beleaguered by fear of danger and exhausted from the burden of constant vigilance. Although the exact nature of that danger is poorly defined, many parents told us that surveillance is now equated with good parenting, and that the days of trusting their children and providing them with space to explore the world and make mistakes are long gone."
I asked MediaSmarts's co-director Jane Talimm about that finding, and she emailed me that "this was consistent with almost all of the parents in our focus groups – we were actually surprised at the intensity of emotion many expressed in this regard – and as we know, this runs counter to the mutual trust, confidence and communication between parents and their kids that is so essential to helping them develop the skills they need for digital life."
This is where Internet-safety messaging – amplified by the news media – has gotten us. Parents not only feeling beleaguered, fearful, and exhausted but, worse, feeling they can't trust their children. Can the net result of that somehow increase our children's safety?
Is it as clear to you as it is to me that we need to turn this Internet-safety ship around? Our children deserve better – for one thing, more respect.
---