Father's Day gifts: bringing dads and daughters closer together
(Read article summary)
Father's Day gifts should include shared experiences, like a baseball game or gardening project, that allow dads and daughters to explore diverse hobbies and break gender stereotypes.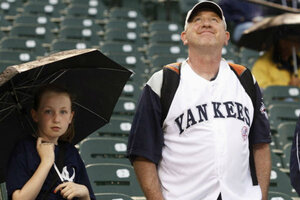 Gary Cameron/REUTERS
When it comes to selecting great gifts for kids, it's important to gift experiences, not just toys. After all, studies show that experiences make people happier than objects do: Objects break, become outdated, or pale in comparison to superior items, and the thrill of ownership fades quickly. But experiences are personal, and the memories of positive personal experiences never lose their luster.
If you still have Father's Day shopping to do, applying this principle to dad's gift could prove very satisfying. If the gift is an experience that father and child can share together, the whole family can benefit. The key to making sure the experience is a good gift is keeping the recipient's interests in mind while doing so.
For example, if the father is a sports fan, a child might give his or her father tickets to a sports game and promise to go with him. Plans for a father-child outing could also work with tickets to a concert, a museum, an art exhibit, or another destination that suits the father's interests and the child's age.
Gifts meant to be experienced together at home can make a great choice, as well. For example, tools are a perennially popular Father's Day gift. Consider supplies for a project that the father and child can create together – gardening or carpentry or technology oriented. (For techie dads, the books in the "Geek Dad" series are full of amazing ideas.) The project could be as small as a birdhouse or much more complicated, depending on dad's skills and the child's age.
Another possibility: Seek out a toy that's meant for both adults and children, around which family memories can be created. For example, toys like Geomags are fun for adults and kids alike – and they can be used collaboratively. The strategy game Rush Hour is also fun for all ages. If dad likes strategy games or puzzles, it could be a nice choice.
---