Internet safety: Teenagers are well aware of dangers online
(Read article summary)
Internet safety education, whether from the media or parents, has made teenagers paranoid about online dangers, says a new study. Our guest blogger says it's time to shift Internet safety education from avoidance to literacy.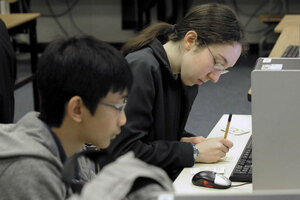 Amanda Cowan/The Corvallis Gazette-Times/AP
Now for the good news in the youth part of Ottawa-based MediaSmarts's report "Talking to Youth and Parents about Life Online." (I previously highlighted the parents' section.) Well, mostly good news. It sounds as if "Internet safety education" has made the youngest among the 11-to-17-year-olds that MediaSmarts talked with pretty paranoid: "From (11- and 12-year-olds') perspective, the Internet is a very dangerous place. They told us that sharing any information put them at risk of being kidnapped, assaulted by a stranger, and stalked." (This misinformation is called education?)
And how sad, because – even though "they demonstrated strong resilience when it came to dealing with both offensive content and unwanted conversations with strangers … clicked out of offensive sites, (and) knew not to talk to strangers" – they had been taught all this was necessary because "people were not trustworthy," they told MediaSmarts.
---