Bully watch: Raising a cowboy unafraid to wear blue nail polish
(Read article summary)
Bully watch in Wyoming: One mother wants her son to be "that cowboy," the one who is not afraid to wear blue nail polish or a pink shirt, showing that it's OK to be different – even in Wyoming.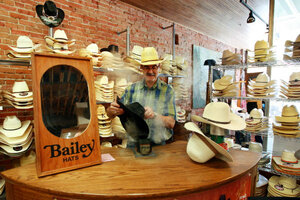 Alan Rogers/The Casper Star-Tribune/AP
Eliot came back to ranch country from the Big Apple all manscaped, right down to the blue fingernails. The chic teenager Esme had painted hers, and Eliot, who is five, did his own, carefully and with purpose. This dyed-in-the-wool Wyoming cowboy had LOVED New York like a child should – pizza everywhere, kids everywhere, and the taxis. He got a toy E Train and couldn't wait to get it on the tracks at home.
My New York friends remarked how well-behaved he is, but I knew he was being spoiled to the point of toxicity. I suppose they did, too, awed in their knowing that his terrible twos – and threes and fours – were spent in tractors, semi trucks, fencing on the mountain, midnight haying on the plains, sleeping on a pillow in his father's lap (not so unlike a treasured dog in a Louis Vuitton carrier under the seat in Cloud Nine, but still, he's this precious little boy).
---