Teenagers and sexting: Studies aim to reveal frequency, behavior
(Read article summary)
Teenagers and sexting is an increasing concern for parents and teachers, and recent studies are aimed at revealing the frequency and behavior involved. It is time for parents to discuss the issue (and appropriate digital media sharing) with their kids, says our guest blogger.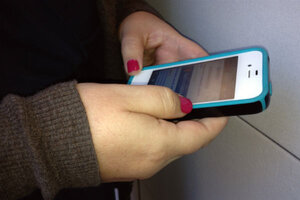 Staff
A new study about teenagers and sexting, which focused on a single high school, found that "nearly 20 percent reported they had ever sent a sexually explicit image of themselves via cell phone, while almost twice as many reported that they had ever received a sexually explicit picture via cell phone and, of these, over 25 percent indicated that they had forwarded such a picture to others." The authors, researchers at the University of Utah, reported on the study in a recent article in the Archives of Sexual Behavior.
Any percentage is too high, but I hope parents who read reports like this remember that the vast majority of young people are smart about digital media sharing.
With the permission of school officials and the students' parents, the authors surveyed 606 students representing 98 percent of the available student body at a private high school in the southwest United States. They wrote that "less than 1% of parents declined to have their child participate, and all but two students whose parents permitted their participation did so."
---