Bullied bus monitor reaction: Teach victims to deal with bullies
(Read article summary)
Bullied bus monitor incident earlier this week is a classic bully/classic victim situation. How can society reduce the number of victims altogether? It starts with teaching potential victims how to deal with bullies, says Columbine High School teacher.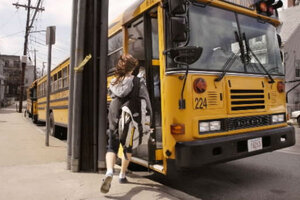 Josh Reynolds/AP
When an editor from The Christian Science Monitor called to ask what I thought of the much-viewed video of middle school bus-riders bullying the bus monitor, I looked it up and watched it for the first time. The editor called me because of an earlier post in which I described different types of bullies and victims, and to me, this looks like a classic bully/classic victim situation.
What's most shocking is the fact that she's an adult, and these are children. In theory, she should have the authority to make it stop. I don't know her, so I can't say anything with any certainty. All I can say is that her demeanor and the way she handles it mimic exactly what a victim the same age as the tormentors would do. An adult comfortable wielding authority would never handle it that way. She would be on her cell phone to the principal right then and there. I very strongly suspect that incidents not unlike this happened to her back when she was a kid on the bus and did not have any authority.
---