Bus monitor Karen Klein: Publicity punishment enough for bullies?
(Read article summary)
Karen Klein, the bullied bus monitor, doesn't want her taunters prosecuted. Is the negative publicity about the bullies punishment enough? What would you do if it were your kid?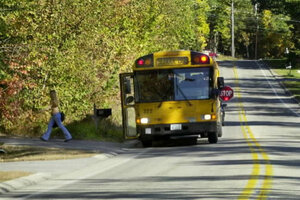 John Nordell/The Christian Science Monitor
So an update on the story this week about Karen Klein, the bus monitor who was shown on a YouTube video being relentlessly verbally abused by a group of middle school children:
International donations for Ms. Klein, sent through the social fundraising site indiegogo.com, have topped – get this – $450,000. (Take that, kids who were taunting Klein about how "poor" she was.) Southwest Airlines has offered to fly Klein and nine other people on an all-expense-paid trip to Disneyland. And at least two of the kids have "apologized," according to statements handed over by police to, of course, CNN's Anderson Cooper 360. (Does this story get wackier and wackier, or what?)
"I wish I had never done those things, if that had happened to someone in my family like my mother or grandmother, I would be really mad at the people who did that to them," read one of the statements, given by a child identified as Wesley.
---