Andy Griffith dies: The last Great American Dad who knew best
(Read article summary)
Andy Griffith was "Paw" to a city girl from a broken home – the last Great American Dad was so much more than TV fathers today who have slid into comic relief and perpetual beer swilling, cheating, idiocy.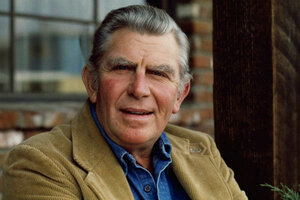 AP/File/1983
"Paw is dead." Despite the fact that I learned of the passing of Andy Griffith on my impersonal, smartphone's news alert, my internal self heard a seven-year-old Ron Howard tearfully delivering the news to my city girl heart.
To me – a kid growing up in a broken home in the mid-1960s, raised by a single mother in New York City – watching "The Andy Griffith Show" in black and white re-runs was my version of The Fresh Air Fund.
Opie (Ron Howard) was my pal and Sheriff Andy and Aunt Bea were my role models in a world that came without aprons, apple pie, or emotional stability. That was Mayberry and a tune I still whistle as my own blue heaven in every place I have been – from reporting in Tel Aviv during a SCUD missile attack to living on a sailboat.
It hurts me to hear him eulogized as "folksy" because folks just don't really see that as a good thing these days but more as something to be dismissed as cute.
---