China adoption diary: The gotcha day "zap." Love at first sight.
(Read article summary)
Part 4 – China adoption diary: Pig-tailed and rhinestoned Madeleine Bao Yi meets the Belsie family – her family – on gotcha day. It's love at first sight.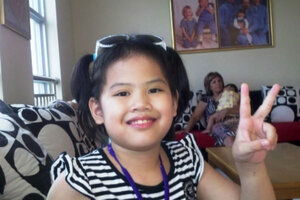 Courtesy of the Belsie family
Guangzhou, Garden Hotel, June 18
Part 4 of Gretchen Belsie's account of her trip with husband Laurent and their first adopted Chinese daughter – 10-year-old Grace – as they head to meet and bring home 7-year-old Madeleine Bao Yi.
Sleep didn't come easily for me last night. I could not find a good sense of calm either because of anticipation or fatigue. But I watched the dark cityscape for quite a while. Thank goodness for the camaraderie of e-mail at 2 a.m. I felt connected to friends far and wide in the wee hours of the Guangzhou night.
Grace was up early (5:30 a.m.) in anticipation of Madeleine's arrival. She re-arranged things in the sitting area where she sleeps, and told me, "I'm going to clean up the nursery a little bit."
We met Simon in the hotel lobby for the van ride to the agency. We carried presents for the "auntie" who accompanied Bao Yi from Shenzhen City and another present for one of the functionaries handling the paperwork. As we waited anxiously, spontaneous friendships blossomed with Americans working with other agencies. The camaraderie between strangers carrying gift bags is instant.
The large waiting room at the Civil Adoption Bureau of Guangdong Province was lined around the edges with bright red couches and graphic black and white throw pillows. We could hear some squawking behind a colorful curtain near the hallway and knew right away that some of the children had already arrived. That's when my "nerve antennae" really went up. Aunties were arriving with groups of children, some already sobbing uncontrollably.
---