China adoption diary: "Officially ours," Madeleine Bao Yi becomes a Belsie
(Read article summary)
Part 5 – China adoption diary: After questions from Chinese functionaries – such as "Why did you choose to adopt?" – the Belsie family officially becomes four, with new sister and daughter Madeleine Bao Yi.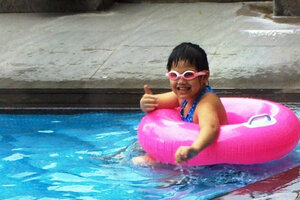 Courtesy of the Belsie family
Guangzhou, Garden Hotel, June 19
Part 5 of Gretchen Belsie's account of her trip with husband Laurent and their first adopted Chinese daughter – 10-year-old Grace – as they head to meet and bring home 7-year-old Madeleine Bao Yi.
Today we made it official: Bao Yi legally became our daughter after a second brief interview this morning back at the Civil Adoption Bureau of Guangdong Province.
We returned to the same large room with the red couches and graphic pillows, but this time, the children, for the most part, seemed settled already into their new families. There was a slight whimper here and there, but it was nothing compared to yesterday's cacophony.
We came with gift bags in hand. Our first stop was at the room with the photographer. We had our picture taken with Bao Yi for legal records. Next we proceeded to an interview room where a nice woman asked us questions like, "Are you happy with this child?" and "Do you guarantee to keep her?"
The questions seemed cold and bureaucratic, given what we had gone through to make this decision and get to this point.
Bao Yi exchanged a few pleasantries with the woman, handed over the gift bag, and went on the second interview. A young functionary settled down with authority and asked us more questions: "How long have you been married?" "Why did you choose to adopt?"
It is hard to formulate an answer for that last one. How do you put into words a kind of calling of the heart? For us, this was the way that we chose to have a family.
I have thought a lot about the innocence and trust that these adopted Chinese children show. Imagine what it must feel like to be 7 years old and leave your home (even if it is an institution), and leave with people you have only ever seen in a small photo album that arrived in the mail a month before. You just trust and move forward, hoping that the people will be good to you – and we will be, just like we told that young man at the civil bureau.
---