China adoption diary: Maoming or bust – a return to Grace's hometown
(Read article summary)
Part 6 – China adoption diary: The sisters wrangle over pigtail pitch, Madeleine becomes a thoroughbred clothes horse, and Mom wonders, "What if Grace's Chinese mother had any idea that her precious daughter was right here in Maoming for only one day?"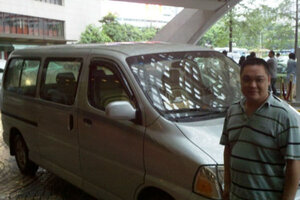 Courtesy of the Belsie family
Maoming, La Palazzo Hotel, June 20
Part 6 of Gretchen Belsie's account of her trip with husband Laurent and their first adopted Chinese daughter – 10-year-old Grace – as they head to meet and bring home 7-year-old Madeleine Bao Yi.
Before having breakfast, there was a minor fracas between Bao Yi and Grace over the placement of tiny rubber bands in Bao Yi's signature high-arching pigtails. Big Sister was not getting it right at all – the little hair elastics are supremely important. Bao Yi kept barking out instructions to Grace, who in turn came to us and said, "I don't understand exactly what she is saying, but I do think she is asking the impossible."
Laurent took the girls swimming after breakfast. Just the mention of swimming, "yo-yong," makes Bao Yi crazy. She grunts happily and dances all over the place. I packed for the road trip and stowed away those things that we would leave behind at the concierge until we return tomorrow.
Our afternoon appointment at the police station was a final check that all the information regarding our family documents was correct. Laurent and I had our photo taken with Bao Yi and it was affixed to a document that we will show upon entering the United States. The photo we have with Grace, circa 2003, shows two happy parents and one sobbing baby with antenna pigtails. Today's photo was of two poached parents – extreme humidity today – and one jolly, smiling little girl.
---