Kourtney Kardashian has a baby girl. Let the gushing begin.
(Read article summary)
Kourtney Kardashian has a baby girl, Claire Danes is pregnant, so is Reese Witherspoon, and the fans are gushing. What's the deal with the Kardashians – and all celebrity baby love?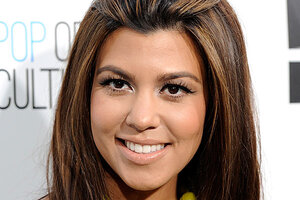 (AP Photo/Evan Agostini, file)
This has been a week for celebrity baby news. (OK, "news" is relative here, but work with me.)
Today we get word that Kourtney Kardashian and Scott Disick had their second child, daughter Penelope Scotland, this past Sunday, with the whole Kardashian clan present. Info still to come on whether the reality TV stars (is that what one calls the Kardashians?) will share footage of the birth, as they did with the arrival of son Mason two years ago.
"Scott and I are overjoyed to welcome our precious angel Penelope Scotland Disick into our lives. We are forever blessed. Mommy and baby are resting comfortably," she told E! News in a statement.
This comes on the heels of a veritable celebrity pregnancy baby boom, with news from the likes of actors Claire Danes, Matthew McConaughey, and singer Adele announcing that little ones are on the way. And Reese Witherspoon, who in the past months has seemed a tad grumpy to have photographers zooming in on her midsection (I wonder why), confirmed that she was expecting baby number three.
---