Sexting: Parents need to understand social pressures and behavior
(Read article summary)
Sexting – often thought of only in a legal context – needs to be considered from a youth perspective in order for parents to more fully protect them from its consequences.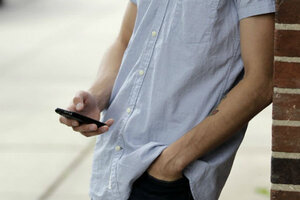 Julio Cortez/AP
The news coverage of youth sexting here in the United States generally places it in a legal context – the life-changing harm that can result from a child's exposure to enforcement of child pornography law. That is certainly of deep concern, especially until these laws that were designed to protect minors from sexual exploitation are revised to catch up with user-generated and distributed media.
But – to reduce harm more fully – it's high time to consider sexting from young people's perspectives and actual experiences, and also in a psychosocial context that factors in social pressures, gender issues, and sexual health.
"Sexting reveals and relates to a wider [global] sexist, sexualised [consumer] culture" that young people are navigating in their own social contexts now," writes the lead author of a new qualitative study of sexting among youth. This is so important for parents and educators to hear:
"We need gender sensitive support that does not treat sexting as the fault of girls, and also we cannot simply demonize boys. Many existing resources are based on sexual stereotypes and worst case scenarios, are moralising and implicitly place the burden of blame on girls for sending a photo, thereby reproducing the problematic message that girls are to protect their innocent virginal body from the predatory over-sexed male. This in itself is a form of victimization [of both boys and girls], which can be harmful."
---