Teens waiting to get drivers' licenses, prefer public transport
(Read article summary)
Teens are waiting longer to get their drivers' licenses, according to a new study. They prefer walkable cities and good public transportation to the hassle and cost of maintaining a car.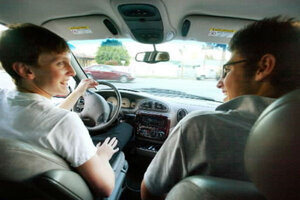 Robert Harbison/The Christian Science Monitor/File
There was a time when turning 16 automatically meant a trip to the DMV to become a newly minted driver, at least if car culture movies like "American Graffiti," and even many of our own teen memories, are to be believed.
But a new study from Oregon State Public Interest Research Group reveals that today's teens are not so quick to gun their engines and join the ranks of drivers, and that cruising the main drag in a steel-skinned living-room-on-wheels isn't the rite of passage to adulthood and freedom it once was.
In 2010, a mere 28 percent of 16 year olds had driver's licenses, compared with 44 percent in 1980, according to another study from the University of Michigan Transportation Research Institute. While this doesn't take into account new laws regarding ages of drivers, older teens are driving at lower rates, too. From 1980 to 2010, 17-year-old licensed drivers dropped from 66 percent to 45 percent; 18-year-olds from 75 percent to 61 percent; and 19-year-olds from 80 percent to 70 percent.
Why is this? According to University of Michigan's Michael Sivak, the economic downturn has made it more difficult for young people to own a vehicle and cover its costs, from gas to insurance to the actual car. In addition, he notes, an increasing number of young people are moving to cities that have regular public transportation. And then there are those who are driving less or not at all out of concern for the environment. He also points to internet access and the popularity of social networks and texting, which means that kids can interact with each other from their own homes and from places that they don't need a car to access.
---