Culture of clutter taking over American families, says new book
(Read article summary)
A mulit-year study by researchers at the University of California, Los Angeles, and Connecticut College sheds new light on the culture of clutter taking over America. It's not pretty. The results are coming out in a book, complete with photos, called 'Life at Home in the Twenty-First Century.'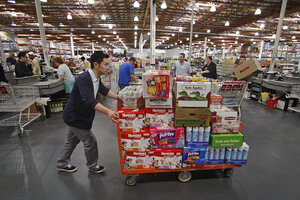 Rick Bowmer/AP
Raise your hand if any of this sounds disturbingly familiar:
A garage that doesn't have room for the family car because it's filled with bikes, baseball bats, rusting tools, old furniture and possibly even a large snow blower. (Arm a-waving over here. The snow blower is a long story.)
Or, how about a hall closet that can't hold any more coats? Or a child's room filled with more than 100 Beanie Babies? Or a fridge covered in hundreds of pictures, magnets (even the free ones that come in the mail, because, you know, you never can have enough magnets), calendars, dry erase boards and shopping lists?
Clutter, it turns out, is a hallmark of mainstream America. (Depressing, no?) And now a new book coming out by researchers from University of California, Los Angeles, and Connecticut College – "Life at Home in the Twenty-First Century" – details just how much clutter, and promises to take a sharp look at the impact of all this stuff on daily family life.
The researchers immersed themselves into the daily lives of 32 families in the Los Angeles area, taking tens of thousands of photographs, hundreds of hours of video, and copious notes from first-hand observations about how people move through their homes, and what they have.
---