China adoption diary: East-West diplomacy, and family normalizing
(Read article summary)
Part 11 – China adoption diary: Goldfish for a tantrum, passing medical muster, and a needed laundering add up to a good family day of East-West diplomacy.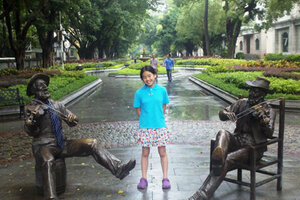 Courtesy of the Belsie family
Guangzhou, The Garden Hotel, June 25
Part 11 of Gretchen Belsie's account of her trip with husband Laurent and their first adopted Chinese daughter – 10-year-old Grace – as they head to meet and bring home 7-year-old Madeleine Bao Yi.
Today was the day we all returned to the medical clinic to have our children's tuberculosis injections checked after the required 48-hour waiting period. Of course, Madeleine Bao Yi had no idea what was in store as she sat happily at breakfast, enjoying olive loaf, a hardboiled egg, and some dumplings.
It's interesting to watch the dynamics of the adoptive families as they start out their day in the breakfast room. The waitresses, dressed in vests and long skirts slit way up the side, are quite attentive. They clear the used dishes away promptly as well as offer immediate linguistic intervention when a Chinese child goes ballistic, much to the consternation of his or her American parents. Once the child feels heard, things usually settle down. If not, administer Goldfish, ASAP.
We arrived at the clinic shortly after 1 p.m. to find the place very crowded with Chinese families. Simon brought us to the special section for adoptive families and we were waited on right away. The requirement for passing the tuberculosis test was that the welt on the forearm could not be longer than 10 millimeters. The other three families were in and out in a flash. As we approached the door, Bao Yi looked very hesitant but we coaxed her in. The nurse on duty poked the welt, looked at it this way and that way, drew a faint line on the skin with a pen, got out a measuring stick and conferred with her assistant. This process was then repeated. Finally, the nurse admitted that the welt was 9+ millimeters and let us walk.
---