China adoption diary: Siblings in sync, even in snores
(Read article summary)
Part 12 – China adoption diary: As US citizenship moves closer, the siblings are showing signs of being in sync like "hand and foot" – even in their snores.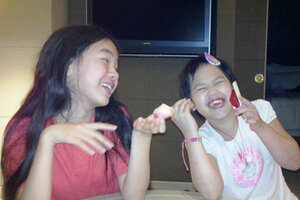 Courtesy of the Belsie family
Guangzhou, The Garden Hotel, June 26
Part 12 of Gretchen Belsie's account of her trip with husband Laurent and their first adopted Chinese daughter – 10-year-old Grace – as they head to meet and bring home 7-year-old Madeleine Bao Yi.
The Chinese have a lovely expression that translates as "sibling" – "shou zu" (pronounced show-zoo) literally means "hand and foot." Siblings will walk the road of life together, side-by-side, holding hands and synchronizing their steps. That image is a comfort to me as a parent.
Late last night, I bent over the bed for one last check on our daughters and realized that I could not match up the tangle of body parts. Grace decided to use Madeleine Bao Yi's head as a pillow but little sister didn't seem to notice. At least they synchronized their snoring.
I'm so glad we've been able to give Grace a sister. She was such a content only child, but in the last week new dimensions of her character have emerged. She thinks and plans ahead for two now, gathering what she thinks Bao Yi will need in her backpack for an outing. She tries to keep the mounting tide of hair elastics and colored pencils under control. Yes, Grace can be bossy at times, but as a counterpoint to infrequent headstrong eruptions from Bao Yi. All in all, she's shown herself to be pretty tolerant – and definitely nurturing.
As for Bao Yi, she took a bold step forward today in acknowledging her new family. Grace asked her "Do you know Mama loves you?" She answered, "Yes, I know that."
I coasted on that for the rest of the day.
---