China adoption diary: Madeleine becomes a US citizen in minutes
(Read article summary)
Part 13 – China adoption diary: Her parents raise their right hands, take an oath for her and Madeliene becomes a US citizen. Now thoughts can turn realistically homeward.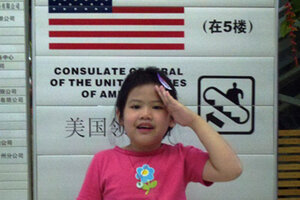 Courtesy of the Belsie family
Guangzhou, The Garden Hotel, June 27
Part 13 of Gretchen Belsie's account of her trip with husband Laurent and their first adopted Chinese daughter – 10-year-old Grace – as they head to meet and bring home 7-year-old Madeleine Bao Yi.
It was an early call this morning for our group's appointment at the US Consulate for the final review of paperwork and the citizenship ceremony. Laurent had set the alarm on his smartphone for 6:45 a.m., but in typical fashion, I had been up checking the nightstand clock on and off since 3 a.m.
Breakfast was more hurried than usual but after nearly 10 days, we know our way around the buffet. Scrambled eggs on even-numbered days, hardboiled on the odds.
Madeleine Bao Yi seemed a bit sleepy at the table and went at her plate load with a leisurely pace. She managed the waffle and the meat dumpling, the watermelon chunks and the olive loaf, but still had a way to go when Simon indicated that we should head out to the van. We stood up and motioned for her to come along, and she panicked. There was a perfectly good, freshly peeled hardboiled egg still on her plate. With one swoop of the hand, she put the whole thing in her mouth à la Lucille Ball, grabbed the saltines, and was ready to roll.
We have a ways to go before even considering an application to Miss Wellington's Finishing School for Young Ladies.
---