Parenting advice: Author Vicki Hoefle says to stop micromanaging
(Read article summary)
Vicki Hoefle, creator of the 'Parenting on Track' program, discusses the parenting strategies in her new book, 'Duct Tape Parenting.' The key takeaway: Stop trying to micromanage your kids and focus on building real relationships.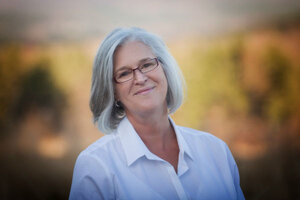 Courtesy of Vicki Hoefle
Whether it's Tiger Mom, Bringing up Bebe, or Dr. Sears (not to mention the slippery slope of mommy/daddy web forums), American parents are awash in advice, criticisms, and suggestions for how to raise their kids.
But given the conflicting messages that these parenting theories entail, we wouldn't blame you for throwing up your hands, chucking the self-help books out the window, and burying your head under the pillow while the toddler runs wild.
Still, we've found that, a lot of times, the experts have some really good ideas. And seriously, who doesn't need a little bit of parenting help now and then?
In the spirit of public service, then, we at Modern Parenthood thought we'd start a new, semi-regular feature on parenting books and theories, with tips and ideas straight from the parenting gurus.
First up: Vicki Hoefle, a longtime educator of both parents and children who created the popular "Parenting on Track Program." Her book, "Duct Tape Parenting: A Less is More Approach to Raising Respectful, Responsible & Resilient Kids," is due out later this month.
When I spoke with Hoefle the other day, I told her that I enjoyed the book, but that it reminded me of dog training, with the whole "any attention is good attention" theory underlying much of the advice. (To the un-initiated, this behavior theory says that kids – or puppies – really want your attention, whether it's praise or scolding, so the best way to deal with most bad behavior is to ignore it.)
She laughed.
"When people start our program, there are always a few that say, 'This sounds vaguely familiar.' I say, 'Do you have puppies?' And they say, 'Oh, yeah!'"
---