Boy flies without ticket from UK to Rome. Why wasn't he detected?
(Read article summary)
An 11-year-old boy flies without a ticket or passport from Manchester to Rome, managing to elude airport security and airline employees. Fellow passengers finally alerted the crew to the unsuspected runaway.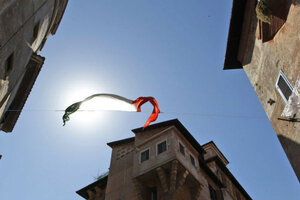 Alessandra Tarantino/AP
So, an 11-year-old boy somehow slips onto a Rome-bound plane at Manchester Airport in the UK without a ticket, passport, or parental consent. No terrorist, this little guy was simply running away from home, he reportedly explained, politely, to other passengers.
(And really, if you're going to run away from home, why not pick Rome?)
The reaction, of course, has been one of outrage. The security breach! The possibility for bad guys to exploit clearly lax passenger vetting! With the Olympics coming, no less!
Airport spokesman Russell Craig tried to assuage flying fears by pointing out that technically, this was not a breach because the boy had cleared security. (I love this.)
"The boy posed no threat to the aircraft," Mr. Craig told the BBC. "He went through the security process."
Right.
But what about that old fashioned concept of security measures being in place to actually look after kids?
---