Albie, the 'world's sweetest dog,' makes dad feel needed again
(Read article summary)
Albie, the Zheutlins' new dog, makes dad feel needed as he misses the days when his sons were elated when he came home and needed to be tucked into bed. He hasn't started reading Albie bedtime stories ... yet.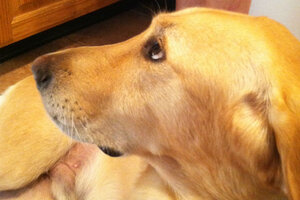 Courtesy of Peter Zheutlin
A few days before our Yellow Lab-Golden Retriever Albie arrived from Louisiana, I was talking with our friend Chris, an accomplished chef and long time dog owner.
"You need to let the dog know who's in charge," Chris said with the authority of someone who's used to running a busy restaurant kitchen. "There's got to be an alpha male and that has to be you."
"So, what you're saying," I replied, "is not to make the same mistake with the dog as I made with my kids."
"Exactly!" he said.
I was only half kidding. It's not in my nature to try and be the boss, either as a father or, now, as a proud owner and best friend of the world's sweetest dog. And, all things considered, the kids turned out better than all right.
In the first few weeks of taking care of Albie, we wondered, indeed suspected, that he wasn't always treated with the love and affection we've been showering on him since he arrived. He hasn't needed a very firm hand. He's almost absurdly well behaved, greeting each new person with trust, clearly expecting the best in everyone, and offering his paw for a shake. He doesn't beg for food. He doesn't tear up the house. He waits to be invited upstairs.
He seems so happy to be with us, it's almost as if he's trying hard not to blow it.
---