Olympics 2012: Six ways to celebrate the summer Games at home
(Read article summary)
Olympics 2012: The Olympics provide parents a chance to teach their kids about different countries, sportsmanship, and motivation. Get in the spirit of the summer Games with six alternative ways to celebrate at home.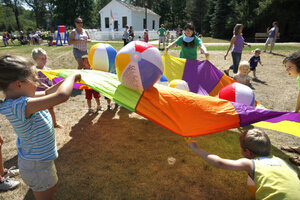 Mark Bugnaski/Kalamazoo Gazette/AP
If you're like my family and many around the world, you'll be glued to the TV at all hours, watching the 2012 Olympic Games from London, which start tomorrow and run for 17 sports-filled days. The Olympic Games have been fascinating us since 776 B.C. in ancient Greece, where they were a one-day event featuring running, long jump, shot put, javelin, boxing, equestrian sports, and a martial art called pankration. Five city-states (think Athens and Sparta) competed for the prize, a crown made of olive leaves.
In addition to watching them, here are six other ways to celebrate and enjoy the Olympics.
Learn something about another country
With 204 countries competing in the 2012 Olympics, from Mauritius to Kiribati, there are plenty of countries and cultures to become acquainted with. Try finding some of the more obscure ones on a map or globe.
I've long been fascinated with the flags of other countries, and I bet many others are, too. Make a fun flag handprint wreath, using these wonderful flag printables from Activity Village.
---