My son and guns: Living in a gun culture, he must understand them
(Read article summary)
A reporter interviewing a dad handling a gun in front of a 3-year-old has mixed emotions – even before the Aurora shooting. But he concludes that in America's gun culture, the best gun control for a family is to teach kids to appreciate their power and how to handle them safely.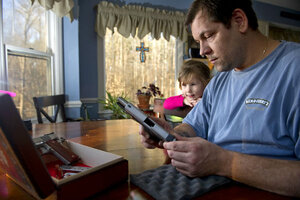 Ann Hermes/Staff
My 6-year-old son just found his favorite new show, the Discovery channel's "Sons of Guns" (yes, lots of explosions), and regularly draws pictures of guys with guns squaring off, with the sound caption: "Boom!" Even my 2-year-old daughter picked up a neighbor's silver Colt cap gun the other day and went, "Pow!"
I certainly grew up pacifist, and I hail from a land – Sweden – where toy guns are heavily frowned upon and where even belt-carry of knives by adults is illegal. My wife is the daughter of activist Democrats from northern Virginia for whom a gun in the house is a non-starter, even though we don't exactly live in Atlanta's safest neighborhood.
Certainly, there have been attempts in the US, too, to ban or discourage "war-like" toys from getting into children's hands. But trying to keep toy guns out of kids' hands is like trying to keep candy out of their mouths: impossible. And like most parents – at least the ones I know, including some uber-liberals – I have never really tried.
---