2012 Olympics: Chess should be included – for players and parents
(Read article summary)
Chess isn't included in the list of events for the 2012 Olympics, though as an officially-recognized sport, it should be. Like other sports, chess attracts driven players and supportive parents to world competitions.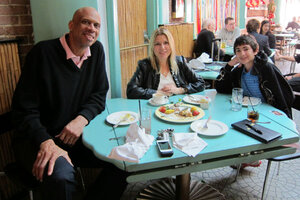 Courtesy of Susan Polgar
This blog was the subject of a Wisconsin Public Radio show on the benefits, history, and cultural significance of chess. Hear the discussion with blogger Lisa Suhay and Susan Polgar, the chess grandmaster and winner of four Women's World Chess Championships at WPR.
Of all the unusual sports that should be included in the 2012 Olympics, chess actually has a legitimate claim: This year marks the 85th anniversary of chess being an officially recognized body of sport by the International Olympic Committee.
That's right. Chess is a sport, complete with an Olympiad and chess parents.
Any chess parent (me included) will talk your ear off about the benefits of exercising the mind and how curling, the Winter Olympics sport, is just chess on ice. With any sport, you need to have tactics, critical thinking, and quick mental reflexes in play.
The World Chess Olympiad is bigger than the Winter Olympics but smaller than the summer Games in terms of number of nations participating. About 160 nations are expected for the Chess Olympiad set to take place in Istanbul, Turkey, on August 27. The youngest competitor is 10 years old.
The first official Olympiad was held in London in 1927. It was intended for inclusion in the 1924 Olympic Games in Paris, but was not due to difficulties distinguishing between amateur and professional players. So while chess is an IOC recognized sport, the Olympiads have been held separately for the past several decades. During the Bejing Olympics in 2008, there was a failed attempt to merge the games.
---