Setting a good example of divorce: 48 years of kindness
(Read article summary)
After 48 years being divorced – and kind to each other – an elderly Buffalo, N.Y., couple remarries, setting an example for their children and other couples, divorced or married.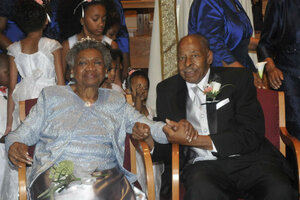 Dan Cappellazzo/AP
It wasn't that Lena Henderson remarried Roland Davis 48 years after their divorce, at age 85, but the fact that in all those intervening years neither parent ever said an unkind word about the other to their four children that really made me stop and think about how I talk about my husband.
I am guilty of muttering about my spouse in front of my kids and he has been there too. We have gone through a very rough patch over the past two years as the economy worsened and I have failed to obtain full-time employment. Too often, instead of banding together to overcome as a unit we have been reduced to bickering and muttering afterwards.
So if it's this hard for married people to keep a civil tongue in their heads, the fact that this couple, while divorced, held the line, is impressive and something I attribute to both their own upbringing and strong church-going ethic.
Ms. Henderson and Mr. Davis who first married in 1944, as teenagers in Chattanooga, Tenn., and after having four children, divorced 20 years later. Each remarried and in time lost their later spouses, according to the Buffalo News. No news report has mentioned the cause of the divorce.
Last week they tied the knot again after he proposed over the phone and later arrived at her door with an engagement ring "pinned to my shirt so I wouldn't lose it."
---