Back-to-school stats: How much do Americans spend shopping?
(Read article summary)
Americans spend billions on back-to-school shopping, whether it is for clothes or books, according to statistics from the US Census Bureau. But maybe the spending is worth it; people with higher degrees still earn more.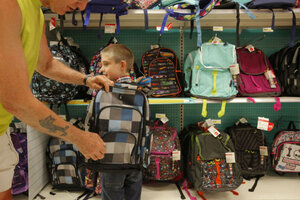 Mark Bugnaski/The Kalamazoo Gazette/AP
We've been keeping an eye on all the facts and figures coming out about the great Back To School migration. (Was that really $700 that the National Retail Federation said was the average cost of back-to-school spending for kindergarten through 12th grade?) After all, this is a big time of year for parents and their kids, whether they're dreading the end of lazy summer days or counting down the minutes until someone else will help entertain (I mean teach) Junior for a good chunk of the day.
So when we saw a new collection of back-to-school stats from the US Census Bureau, we decided we needed to share.
Because check this out: The amount of money spent at family clothing stores in August 2011? $7.7 billion. Yes, billion. And this consumerism could take place at a wide variety of locations. According to the Census Bureau, there were 28,520 family clothing stores in 2009, along with 7,092 children and infants clothing stores, and 26,651 shoe stores.
---