Disney Princess diversity: Characters changed via Tumblr, D-Tech
(Read article summary)
Disney Princess diversity, mostly non-existent in films and dolls, is evolving with people using Tumblr and 'D-Tech' to change characters' features to make images and dolls look like little girls of all ethnicities.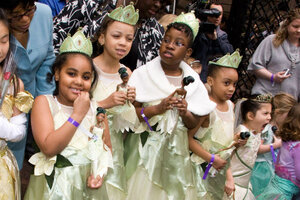 Charles Sykes/AP/File
A couple of weeks ago, a young woman named Lauren reimagined the white Disney Princess characters as women of color, posting recolored images of them on her Tumblr blog. Her inspired designs quickly made their way around the blogosphere.
Responses ranged from supportive ("I love this!") to perplexed ("This was done because…?"); from grateful to critical (including requests for more inclusivity); and, sadly, from defensive to exclusionary (people of color "should come up with their own princesses and heroes") and clearly racist.
I wrote a little about the Disney Princess franchise and race earlier this year, when I noticed that in the Disney Store's 2012 redesign of their Disney Princess dolls, Disney westernized Mulan's dress and lightened Pocahontas's skin. So when the Huffington Post Live asked me to be their expert guest on a segment called "Black and Brown Princesses" about the reimagined Disney Princess characters from Lauren's Tumblr, I was happy to oblige.
---