Male birth control pill may soon be a reality
(Read article summary)
Male birth control was made possible with mice in lab experiments, say researchers, opening the door to a potential oral contraceptive for men.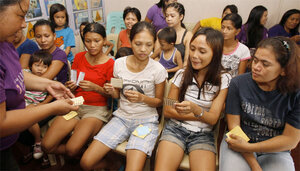 Erik De Castro/Reuters
US researchers have stumbled on a compound that may finally lead to a birth control pill for men.
In lab experiments, male mice given the pill were rendered completely infertile during treatment as they produced fewer and less mobile sperm. The drug, originally tested as part of a broader cancer research project, does not affect the hormone system or sex drive, the team said on Thursday.
"There is no effect on the mouse's mojo. The animals exhibit the normal sexual behaviors ...." said James Bradner of the Dana-Farber Cancer Institute in Boston, whose study appears in the journal Cell.
What's more, the effect is completely reversible. Once doctors stopped giving the drug to mice, they were able to sire healthy litters, with no apparent side effects, Dr. Bradner said.
The study is "an exciting report that could have major scientific and social impacts," said Professor Moira O'Bryan, head of the Male Infertility and Germ Cell Biology Laboratory at Monash University in Australia.
The social impact of effective contraception was huge, separating sexuality from reproduction. The Pill – oral contraception for women first introduced in 1960 – promised women almost unlimited freedom from worry about pregnancy because, for the first time, they could control their fertility. This "sexual revolution" lead to more relaxed attitudes about sex outside of marriage and had a significant effect on women's ability to plan their families and careers. Among American women who use contraceptives today, the largest proportions use the Pill – 28 percent – according to the Guttmacher Institute.
---