Rescue dog: Albie, my wingman, is a people-magnet
(Read article summary)
Rescue dog Albie, a half yellow Lab, half golden retriever, and total people-magnet, attracts strangers and conversation. Perhaps there will be a new Albie-inspired "Life is Good" T-shirt..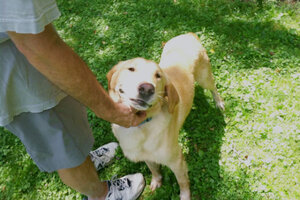 Courtesy of Peter Zheutlin
In the five weeks we've had Albie, our half yellow Lab, half golden retriever rescue dog, I think I've met at least a hundred people I'd never have talked to before. To be with a dog, especially one as appealing and welcoming as Albie, is like wearing a sandwich board with blinking lights that says, "Come say hello and ask me about my dog!"
This is not an altogether bad thing. A week ago I was outside a grocery store in western Massachusetts waiting with Albie while my wife Judy shopped inside. Before I knew it, a rather attractive woman in a revealing top was talking sweet nothings in Albie's ear and striking up a conversation with me. She was in the area spending a month at a well-known yoga retreat. I know Albie was the main attraction, but it occurred to me that during the lean, single years of my early 30s, my biggest mistake was not having an irresistibly adorable dog as my wingman.
---