China adoption diary: Through the looking glass into the US, and having a blast
(Read article summary)
Returning from their two-week China adoption, the Belsie family hits the road with new daughter Madeleine Bao Yi, heading for a family reunion. Bao Yi has gone through the looking glass and is having a blast learning new traditions and more about who she is.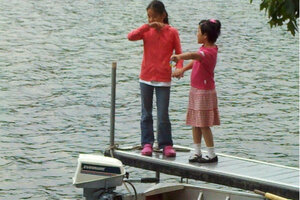 Courtesy of the Belsie family
Following the 14-part China adoption series, Gretchen Belsie provides occasional updates on how 7-year-old Madeleine Bao Yi is adapting to the US and her new family – Monitor business editor Laurent Belsie, Gretchen, and their first Chinese adopted daughter, 10-year-old Grace.
It's funny how a four-year trail of tedious bureaucratic paperwork – which often feels like it's going nowhere except in a circle – can nonetheless pave the way to startling life changes that ultimately make you forget all the bother that preceded the glory. As adopting parents, we know the endpoint we're aiming for, and we wait and crane our necks to see if we're getting any closer to the much-anticipated crossroads. But for a child, like Madeline Bao Yi, who had no idea her life was about to be totally redirected, there wasn't the same anticipation.
RELATED: Are you a Helicopter Parent? Take our quiz!
When she got to the looking glass, she went through it like Alice – and immediately started having a blast.
After the two-week bonding time in China, we headed home to Boston – but not to settle into the daily routine of family life. No, we decided to go on a family reunion-style vacation, and headed to Quebec to introduce our new daughter to family members of mine from the East Coast.
---